Where in this grid would you place four of these five cards so that the written clues "match" the printed words on the adjacent cards?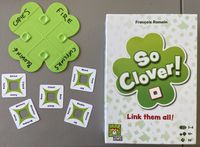 Cover and design not final
That one sentence describes the essence of So Clover!, a party game from first-time designer François Romain and non-first-time publisher Repos Production that is due out June 26, 2021 in Europe and July 16, 2021 in the United States.
Do I need to write more so that you understand how the game works? Or can you decipher pretty much all of it from the image above?
So Clover! is essentially a successor to Just One, a 2018 design by Ludovic Roudy and Bruno Sautter for which Repos Production won the 2019 Spiel des Jahres. The details of gameplay aren't the same in the two designs, but they're both co-operative party games in which you need to give clever — but not too clever — clues so that someone can figure out what you're trying to get them to guess.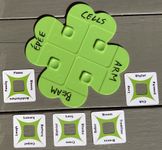 The game lasts only a single round. Each player has a secret clover board, and they place four cards at random in the center spaces. They look at the two keywords next to each a blank space, then write a single word — whether a common word, a proper noun, a number, an acronym, or a compound word — in each blank space. Remove the four cards, placing them face down and shuffling them with a random fifth card from the deck.
Once everyone has prepared their boards, someone reveals their board and five cards, then keeps a blank face while everyone else argues and deduces which cards go where. If they guess everything correctly on the first try, the team earns 6 points; if not, the clue giver removes incorrect cards from the board, and the team takes another shot, earning 0-4 points depending on how many cards they place correctly. The maximum score for a game is six times the number of players.

In all likelihood, you will not care about the final score, another similarity with Just One, as well as with Repos' 2013 party game Concept. I've now played eight times on a mock-up preview copy from Repos with all player counts, and I have no idea how we've scored in those games — but I do know that I've had a blast trying to generate clever clues and figure out the cleverness of others.
So Clover! is one of those games that I want to play with people who I'm meeting for the first time so that I can find out what they're like. In that way, the design is much like Vlaada Chvátil's Codenames, but now with all players having the opportunity to both give and guess clues in the same game.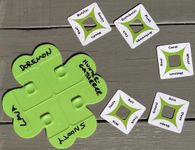 Another similarity to Codenames is that each time you play, you're confronted with a combination of cards that you might never see again, a situation that pushes your mind to be creative because you can't rely on what you've done the previous times you've played — and as in Codenames, your clue choices are audience dependent. You need to imagine yourself in their position to consider whether they could possibly make the backwards connection.
Similarly, when you're the one guessing which cards go where, you can sometimes reverse engineer your choices by trying to imagine whether given the two printed words next to a written clue, you would have written that same clue — or you at least understand why someone else would have done so.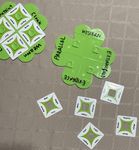 So Clover! is somewhat harder for young players to participate, with one preteen giving a clue of "IDK" in one game and not great clues another time. In Just One and Codenames, you're not in the spotlight with your clues — or you're just part of the guessing team — so you don't face the stress of giving bum clues and feeling like you've let everyone down. When teaching So Clover!, you might consider telling players that if nothing seems like a great clue for the pair of words, give a great clue for just one of the words and hope your other clues can carry the day.
I give more examples of gameplay in this video, giving you yet another set of cards to place in a grid while solving a grid that my wife created before I started recording. See whether you think I made the right placements:
Read more: boardgamegeek.com